Effectively integrating care for complex populations
Integrated care is changing the way patients receive care by focusing on caring for the whole person – often by combining physical and behavioral care into one plan to improve the mental and physical condition of an individual. But what does integrated care mean for individuals with chronic conditions? And how will it affect the relationship between providers and their patients?
Our 2-part virtual round table discussion with experts from across UnitedHealthcare Community & State will examine these questions and more. 
Person-centered care: surrounding the member in wraparound supports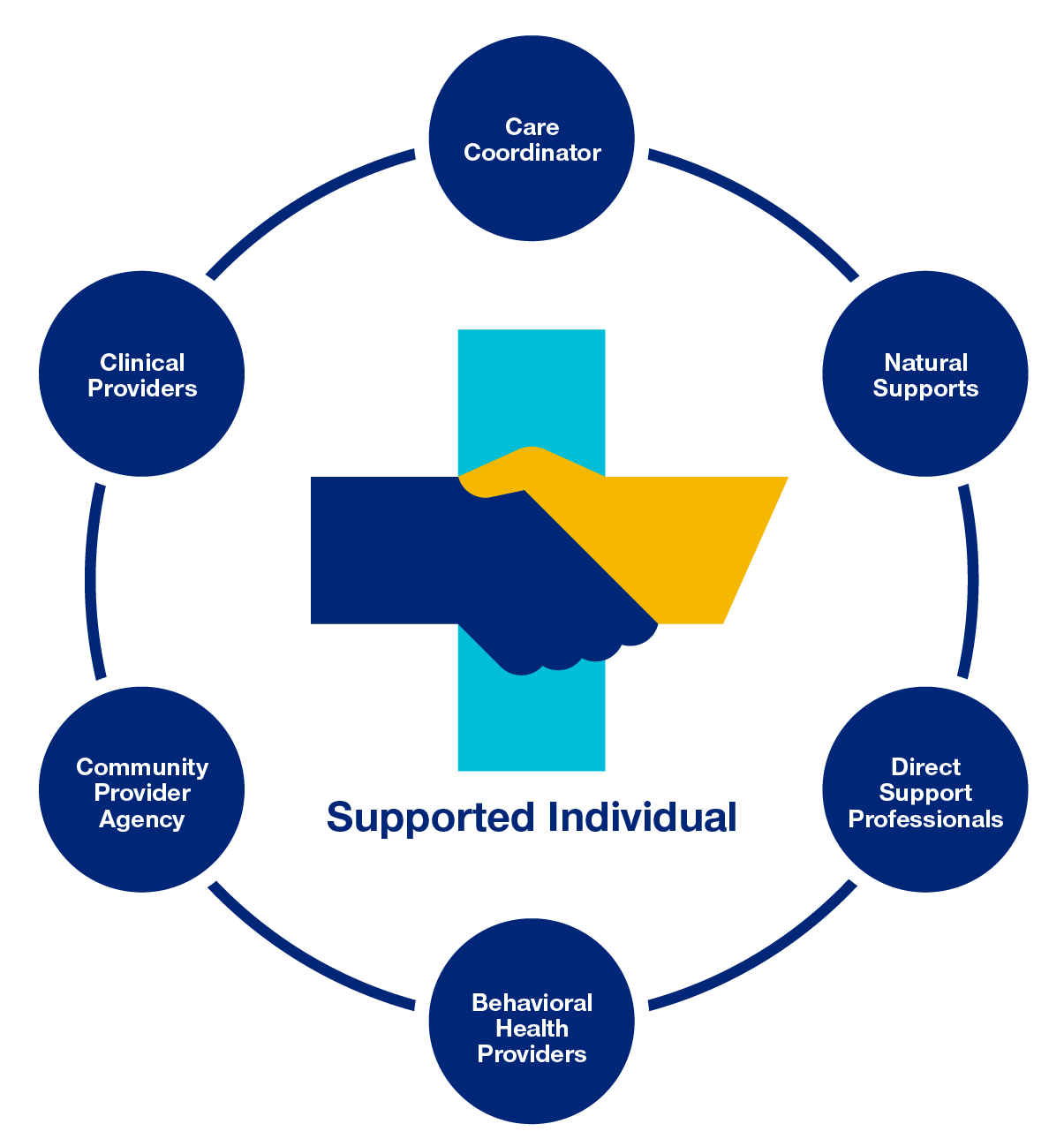 Continuum of physical and behavioral health care integration
Effectively integrating care for the I/DD population
UnitedHealthcare is dedicated to ensuring that individuals of all ages with intellectual and developmental disabilities, physical disabilities, behavioral health diagnoses, cognitive impairments, or serious mental illness have access to the services they need to live healthier lives in the community, as well as greater flexibility and control over their own lives. 

ProjectSEARCH
Project SEARCH was created in 1996 at Cincinnati Children's Hospital and is a business-led, one-year, school-to-work transition program serving students with intellectual and developmental disabilities. Unlike a traditional school setting, this program focuses on total workplace immersion, combining classroom instruction, career exploration, and relevant job-skills training through strategically-designed internships with host businesses.
Since 2013, the UnitedHealthcare Community Plan of Texas has partnered with the national Project SEARCH organization and the Fort Bend Independent School District to create a program that invites students ages 18 to 22 with disabilities to receive training at its offices in Sugar Land, Texas. The goal is improving employment outcomes. To supplement the internship, UnitedHeathcare and Project SEARCH adopted the HealthMatters curriculum. A comprehensive curriculum written specifically for persons with intellectual and developmental disabilities, HealthMatters is designed to show professionals how to help people make the best choices about health, exercise, and nutrition.

UnitedHealth Group's All Abilities Hiring Initiative
UnitedHealth Group is committed to proactively hiring people with disabilities and creating an environment where people of all abilities are welcome and seen as key contributors. As an employer, we will think about the employee journey through the eyes of people with disabilities to ensure that the employee experience is positive for all members of our workforce. As part of this initiative, we are deploying a proactive sourcing strategy to expand our candidate pool and increase hiring of people with disabilities. Hiring may consist of interns, transitional roles, and direct hires. 
Effectively integrating behavioral health & physical health
It is well recognized and well documented that there are significant correlations between physical and behavioral health. However, historically the systems that have been designed to deliver services to address physical and behavioral health have been built and developed independently, with no formal, system-level coordination. 
By integrating behavioral health into a comprehensive Medicaid Managed Care contract, a state can:
Provide a comprehensive approach to care coordination across medical and behavioral services,

thereby improving the coordination between service providers and addressing opportunities for improved health outcomes, particularly for individuals with serious mental illness and chronic medical conditions.

Improve member and provider experiences

by ensuring a holistic view of the individual, simplifying access to behavioral health services, integrating materials, resources and tools, and building a quality management program that fully addresses the medical and behavioral needs of the individuals served.

Ease a state's administrative complexity and reduce administrative costs

by having fewer vendors to manage, aligning incentives to coordinate care within the health plans, and integrating data and reporting structures.

Enhance health plan ability to deliver on state goals

regarding integration, improved quality, and increased cost efficiencies by providing health plans with a holistic view of individuals. This approach integrates the management team to include all behavioral health services, and aligns staff training, policies, procedures, work flows and operating procedures to include all benefits, and provides a common information system for communication within the plan.

Reduce fragmentation and ease differences across geographies

by leveraging an integrated approach to care coordination and planning. This is particularly important considering the critical role many counties play in the delivery and purchase of behavioral health services that often leads to differences in processes, services, available benefits, and providers across a state.

Increase capacity to deliver innovations within behavioral healt

h by bringing experience with alternative delivery and payment models that encourage improvements in care and quality outcomes, including system capacity to support providers in enhancing their practice and empowering individuals to take ownership of their overall health.
Approximately 44.7 million adults live with a behavioral health condition
More than 20% of adults with a mental illness have a co-occurring substance use disorder
1 in 5 people have a mental illness or addiction 
68% of adults with a mental illness have one or more chronic physical conditions
Individuals living with serious mental illness (SMI) die, on average, 25 years earlier than the general population
Medicaid covers only 14% of the general adult population but manages care for 21% of all adults with behavioral health conditions, 26% of all adults with serious mental illness (SMI), and 17% of all adults with substance use disorder (SUD)
Integrated care member stories
Caring for the whole person is our goal, considering a person's head, heart, and home is part of our approach to care. Below are examples of how this approach is is helping our members live healthier lives.