Staying connected and accessing information online is a must for anyone nowadays, especially when it comes to finding important health resources and job opportunities. For those in underserved communities, not having a computer oftentimes means not having access to important assistance and services.
To help bridge that gap, UnitedHealthcare established the Community Computers Program to donate equipment to create computer labs inside local organizations, enabling them to provide internet access to people in these underserved communities.
Recently, the UnitedHealthcare Community Plan of Massachusetts donated 12 computers to the Teen Center at St. Peter's, which is part of Catholic Charities of Boston. With a mission to build a compassionate and just society rooted in the dignity of all people, the Teen Center has been a safe haven for middle and high school students who need academic assistance and tutoring, job opportunities, counseling support groups and recreational activities since 2002.
Of the approximately 300 students enrolled at the Teen Center, 85 percent are considered first or second-generation Cape Verdean and 15% are Black or multi-racial. All are low-income and at-risk for violence and trauma, with most facing food and economic insecurity.
This computer donation will greatly enhance the center's college and career center that promotes job exploration, internship opportunities, and help with resume writing and college and financial assistance applications.
"All twelve computers were donated to Teen Center members to take classes here at the Teen Center and also to take home. All twelve recipients came to St. Peters since November, because they have some difficulties with computer or no internet at home. The students and their families are super excited because they have their own computer to keep. On behalf of Catholic Charities, parents and all the students, they thank UnitedHealthcare for this beautiful gesture. This donation fulfilled all their wishes, and they cannot stop smiling," Program Director Joao Dos Santos said.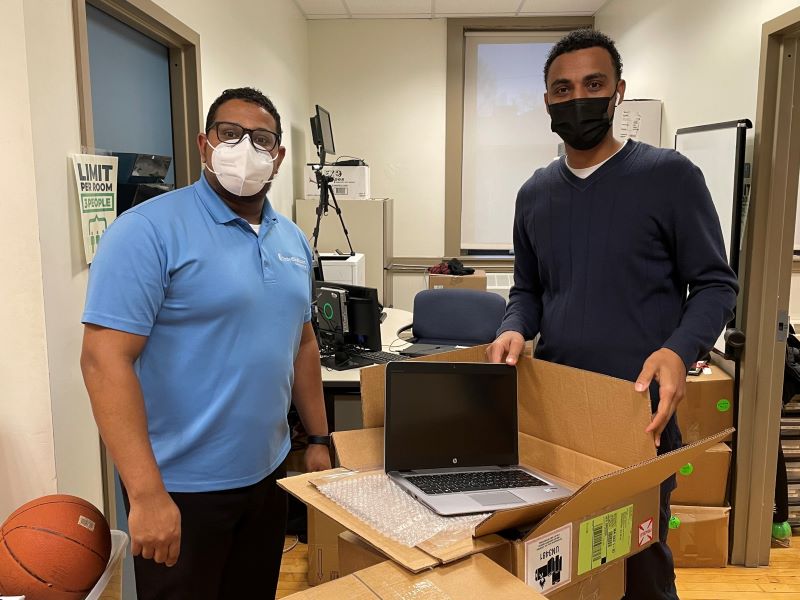 Pictured from left to right: Ricardo Canuto of UnitedHealthcare and Joao Dos Santos of Catholic Charities Teen Center at St. Peter's.
To date, UnitedHealthcare's Community Computers Program has donated more than 776 computers nationwide as part of our commitment to local communities.