When the global COVID-19 pandemic took hold in March, Gateway Community Health Center (GCHC), a long-established FQHC in Laredo, Texas saw an immediate impact on the populations they serve with visits declining by 30 percent beginning in April 2020. In order to ensure that none of the staff were laid off or furloughed, GCHC had to quickly reimagine and expand their healthcare services, which led to the successful inception of telemedicine in the clinics and schools. 
Within a month's time, GCHC secured software and hardware, including laptops and tablets, and COVID testing equipment, to ensure they were ramped up to take on patient visits. By late April, the facility was taking on a new 'virtual' look and feel in their sizeable border community, where many are uninsured, and around 60 percent of patients fall below the poverty line. With their telemedicine capabilities up and running and their clinic seeing approximately 500 new patients each month, GCHC worked to address additional barriers in their community.
UnitedHealthcare, a long-time partner of GCHC, also recognized the many challenges that FQHCs would face in the months to come – the organization made an investment in GCHC and other FQHCs nationwide through the UnitedHealthcare FQHC Transformation Investments Program to address decreased cash flow at FQHCs and the need to invest in capacity building efforts as a result of the historic shift in utilization caused by this public health emergency.
To solution for some of the problems they were seeing with the pediatric population, GCHC made a commitment to increase and expand the telemedicine department on the pediatric side, where the community is most challenged. 
Many people have no access to wi-fi or own cell phones, so ensuring proper connectivity to those who need it is a large focus of the transformation work. Children in the local schools are a particular area of concern. Many families rely on schools for social connection, nutrition, and stability, and have faced hardships during the pandemic.
As a continuation of their efforts, GCHC is working with four school districts, where there are 100 different nurse stations. The proposal is to have telemedicine service that is based in the schools. When a child in school is sick, suffering from an acute or chronic illness, nurses can dial up and get one of the pediatric physicians who can help them determine the severity of a child's illness and what kind of treatment they need.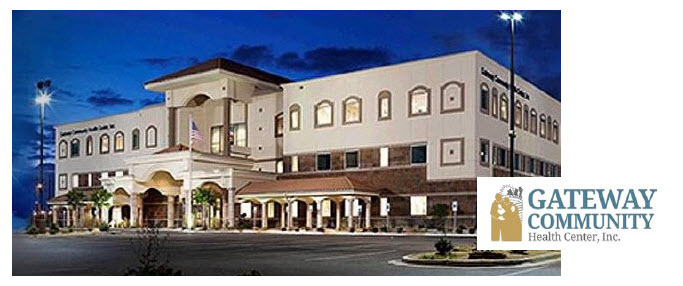 "All we're trying to do is create that mechanism that will allow a parent to make sure that the child has care at school."
Elmo Lopez Jr., CEO of Gateway Community Health Center
Having this partnership with the schools will also allow the staff at GCHC to stress the importance of regular well child check-ups, vaccinations and care that children need to live healthy lives — something that will remain critical during the COVID-19 pandemic and beyond.
"One of the tenets of being a federally qualified health center is that we expand the accessibility of affordable, quality healthcare to anyone in our service areas, so to be in 100 schools and to help so many children, as well as employees right from their home campus, this is a big deal," added Mara Lopez, Director of Marketing at Gateway Community Health Center.
Thanks to the investments made by UnitedHealthcare and other partners, GCHC has been able to conduct nearly 1,900 telemedicine visits in the past eight months and continues to develop innovative solutions to address the needs of the communities they serve. GCHC has made it their mission to provide every individual in need with the best care possible and that work has become even more important for so many — partnership and support from organizations like UnitedHealthcare will be critical to their success.